Welcome to
Signature Pieces
by
Autograph World
, the location for premiere authentic autographs. Our monthly auction features hundreds of items from the biggest names in entertainment, music and sports. All items are backed by Autograph World's 100% guarantee of authenticity.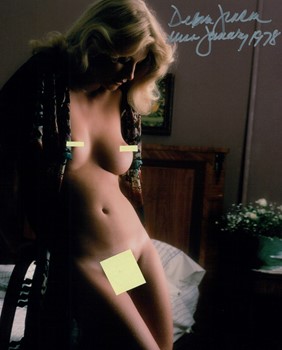 Katharine Hepburn - (1907-2003) Multi-Oscar winning actress. One of the greatest of all time. 7.5x9.75 matte-finish b/w photo of the actress backstage. It is signed and inscribed 'For William Godward'. It comes with PSA/DNA letter of authenticity.
Cliff Robertson
- (1923-2011) Oscar winner for his role in 'Charlie'. He was also in 'Spider-Man' as 'Uncle Ben'. 8.5x10.5 b/w In Person signed original vintage Volpe...
more
Aaron Paul - Actor who stars in 'Breaking Bad'. 8x10 Color In Person signed portrait from 'Breaking Bad'.
Claudia Wells - 8x10 Color In Person signed great portrait as 'Jennifer Parker' in 'Back To The Future'.
Consign your items to Autograph World
- if you have autographs that you would like to place in the Signature Pieces auction, please click
here
.