Welcome to
Signature Pieces
by
Autograph World
, the location for premiere authentic autographs. Our monthly auction features hundreds of items from the biggest names in entertainment, music and sports. All items are backed by Autograph World's 100% guarantee of authenticity.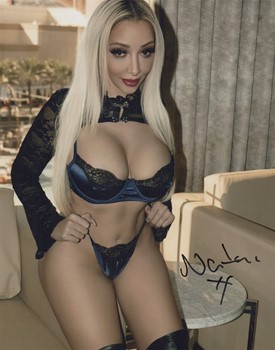 Walt Disney
- (1901-1966) Legendary creator of 'Mickey Mouse' and all of the other world famous 'Disney' characters. This item has a huge ballpoint signature on an off white 5.5x4 page affixed to a same sized piece of mat board. It has been matted and framed with a photo to an overall size of 14x21.5. There i...
more
Kat von D - Starred on 'Miami Ink' and now has her own show called 'LA Ink'. 12x18 b/w In Person signed sexy portrait.
Heather Locklear
- Actress that starred on TV's 'Dynasty' and 'TJ Hooker'. This item is an In Person signed vintage TV Guide cover that has been tipped to a slightly la...
more
Consign your items to Autograph World
- if you have autographs that you would like to place in the Signature Pieces auction, please click
here
.